Representatives from Bryan County Schools and St. Joseph's/Candler announced Friday at Richmond Hill High School they're partnering on a program to give local high school students a head start on the education required for a career in health care.
St. Joseph's/Candler President and CEO Paul Hinchey said the program will combine academics with clinical training, while also giving high school students early exposure to opportunities in health care and access to professionals already working in various fields.
The new health sciences certification program is unique and could become a model for other school districts and health care systems, Hinchey said. It will include a 2,000-square foot health sciences lab in the new Richmond Hill High School, which is scheduled to open in 2025.
A similar lab could be built at the new Bryan County Middle High School, which is scheduled to open in 2028.
"We want to marry academics with clinical training, and we want to marry what goes on in the classroom with on hands experience for the student," Hinchey said, noting the program is aimed at providing "a pipeline for the next generation of health care workers in Georgia."
With Hyundai's Metaplant America and its supplier industries joining an already booming port economy and decades of rapid residential growth, Hinchey said the area "will see growth figures none of us are used to. We need a pipeline of health care workers for this next generation, taking care of a population in southeast Georgia that is not even here yet."
Bryan County Schools Superintendent Dr. Paul Brooksher said St. Joseph's/Candler has already been a vital partner with the school system, but "they continue to push the envelope to build upon this partnership, making it even better, asking, 'what can we do next, how can we grow, how can we expand, how can we have a stronger or better impact, not just on the kids but the community?'"
Among some 40 students who participated in a trial run of the program last spring at RHHS is junior Ryley Landers, a dual enrollment student at Georgia Southern who plans on attending either Georgia Tech or Augusta College and then pursuing a career in occupational health.
"Ever since I was a little kid I wanted to go into the medical field," said Landers, who took Intro to Healthcare, Essentials of Healthcare and Public Health as part of the program. "I enjoyed Public Health the most because I was able to be a part of the shadowing program with St. Joseph's/Candler."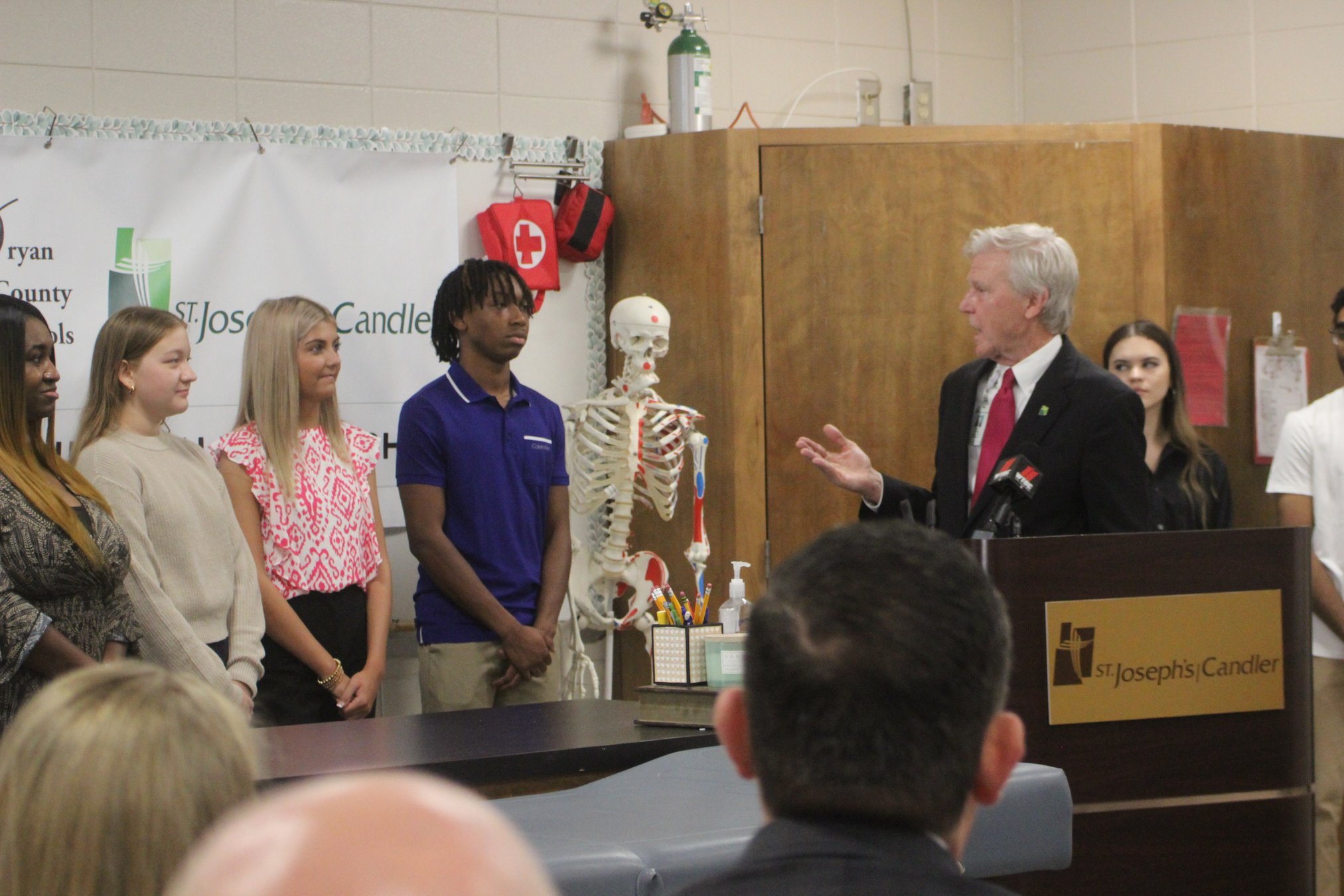 St. Joseph's/Candler CEO Paul Hinchey with Richmond Hill High School students at the Aug. 25, 2023 announcement the hospital will partner with Bryan County Schools on advanced health care courses as part of a program to provide students the opportunity to explore the field and also provide a pipeline of health care workers into the field in the future. – Photo from Bryan County News. Photo by Jeff Whitten.
JOIN OUR MAILING LIST
STAY UP TO DATE WITH THE LATEST HAPPENINGS IN HEARTWOOD