Bryan County, GA – On Monday, November 13, 2023, MOBIS North America Electrified Powertrain, LLC, (MOBIS) received the Georgia Economic Developers Association (GEDA) Deal of the Year Award in the Mid-Size Community category. This award was created to recognize outstanding achievement in the location or expansion of new businesses in the State of Georgia that meet community economic development goals and involve significant community collaboration. There to be recognized alongside MOBIS were community leaders from the Development Authority of Bryan County (DABC), City of Richmond Hill, Bryan County, Raydient Places, and the Georgia Department of Economic Development (GDEcD).
GEDA is a non-profit association of professionals and volunteers who are involved in the field of economic development. GEDA was organized to increase the effectiveness of individuals involved in the practice of economic development in Georgia by encouraging cooperation, exchange of information, and upgrading of professional skills. GEDA strives to achieve a closer working relationship among professionals and volunteers engaged in economic development in Georgia.
"We were very honored to be presented with this award for the MOBIS project in Richmond Hill. The process of recruiting MOBIS to Belfast Commerce Park at Heartwood was certainly a team effort. And it was great to have several members of the team that helped make this happen join us in Atlanta to accept the award," says Jon Seagraves, DABC Chairman. "In particular, I would like to thank Mr. Park and Mr. Lee with MOBIS, who were instrumental in the company's decision to choose Bryan County and drove up to accept the award with us."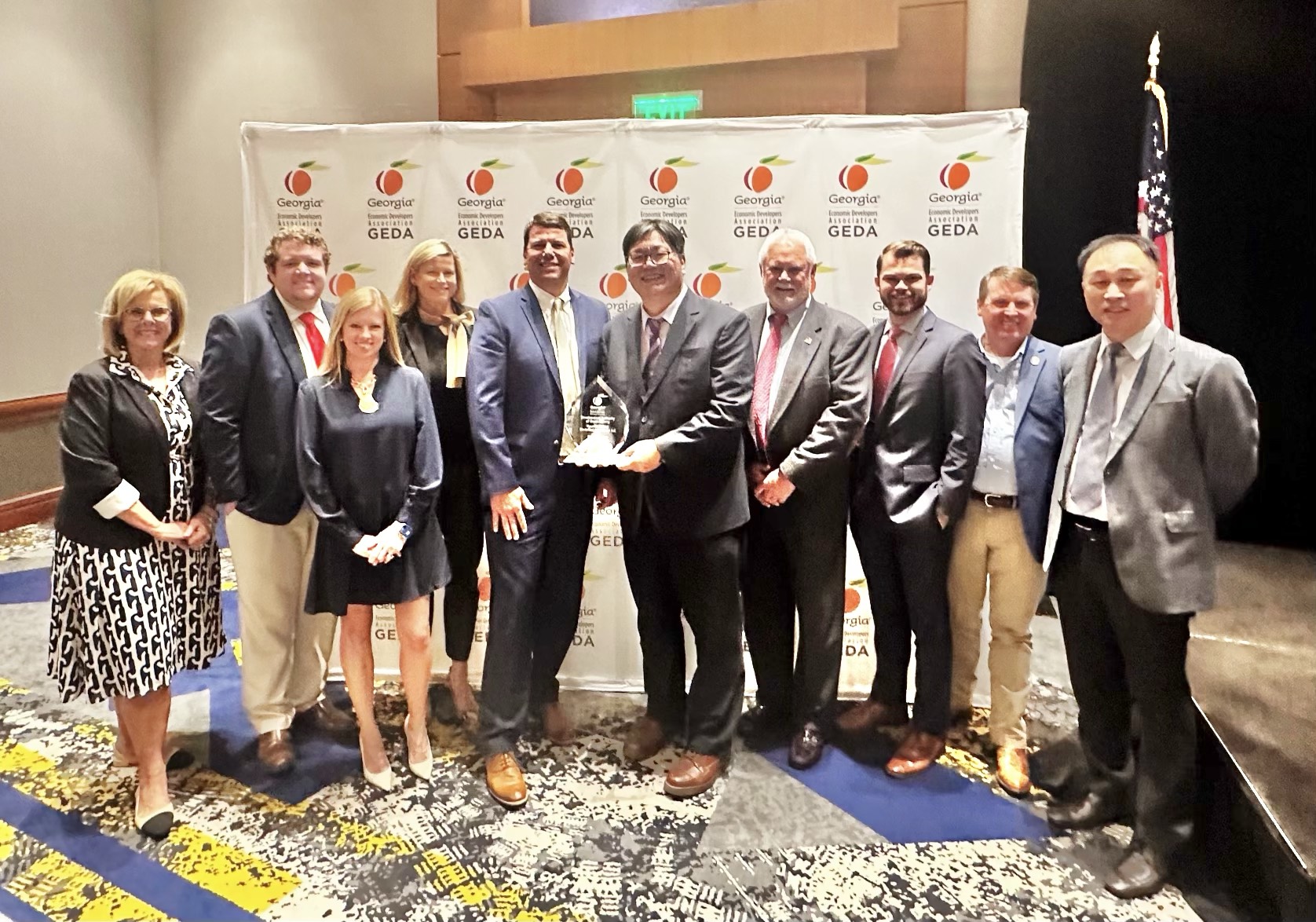 About MOBIS
Hyundai MOBIS is a globally recognized South Korean automotive parts maker. Founded as Hyundai Precision & Industries Corporation in 1977, the company forms the "parts and services" arm for the South Korean automakers Hyundai Motor Company, Genesis Motors, and Kia Motors. Its business scope encompasses key automotive parts, especially in the e-powertrain (Battery Systems and Power Electric Systems), the three major modules (Chassis Modules, Cockpit Modules and Front-end Modules) and aftermarket sales and service.
About the Development Authority of Bryan County
The mission of the Development Authority of Bryan County (DABC) is to recruit and retain industry in Bryan County to create jobs and investments in the community. Since 2019, the DABC has assisted with the location of projects representing over 5,000 new jobs and over $1.7 billion in capital investment. This does not include the Hyundai Motor Group Metaplant America (HMGMA) project, which at 8,500 jobs and $7.59 billion in capital investment is the largest economic development project in Georgia state history. The HMGMA project was recruited to Bryan County by the Savannah Harbor I-16 Corridor Joint Development Authority, of which Bryan County is a member.
About Heartwood
Imagined as the new part of a historic town, inspired by the beauty and durability of the forests, Heartwood is a new community in Richmond Hill, Georgia. Heartwood at Richmond Hill offers a lifestyle that will span the generational needs of people and the ever-evolving needs of business. Whether you are growing a family, growing an entrepreneurial dream, expanding your business footprint, or just looking to mature somewhere that has it all, Heartwood is a place to live, work, and play in one location. Heartwood is being developed by Raydient Places + Properties, a taxable subsidiary of Rayonier Inc., a real estate investment trust. To learn more about Heartwood, visit heartwoodlife.com or email marketing@heartwoodlife.com
About Raydient
Raydient masterplans, develops, builds, markets and sells "places and properties" ranging from multi-use communities and industrial parks to rural homesteads and recreational lands. Raydient is a taxable subsidiary of Rayonier (NYSE:RYN), a leading timberland real estate investment trust with assets located in some of the most productive timber growing regions in the U.S. and New Zealand. When the real estate market demands a higher and better use for a property, our team steps in to transition that timberland for its future purpose. Get to know us at www.raydient.com.
JOIN OUR MAILING LIST
STAY UP TO DATE WITH THE LATEST HAPPENINGS IN HEARTWOOD